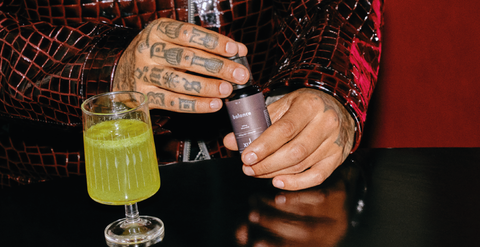 3 Healthy Mocktail Recipes for Winter
Mocktails are having a moment. It's not just the dregs of another Dry January that are boosting this trend–
some say
it's the counter-reaction to the elevated volume of alcohol we collectively drank at home during the pandemic, while others postulate that people realized that making special beverages at home can be pleasurable on their own, sans alcohol. And while artisanal non-alcoholic drinks can cost close to
$30 a bev
at some bars and lounges, you can craft your own delicious healthy mocktails for yourself or a dinner party at a fraction of the price.
Given that it's the dead of winter in the Northern hemisphere (it's dropped down to the single digits at times in Mexico City… Celsius, that is), we wanted to share with you some of our favorite healthy mocktail recipes for the colder months. These spritzes and tonics are chockful of warming immune-boosting ingredients like ginger, apple cider vinegar, cinnamon, citrus, and honey. As we always do with our Xula-approved adaptations of our favorite recipes, we'll be adding dashes of our signature tinctures to further infuse these mocktails with adaptogenic herbs and mood-boosting cannabinoids. This guide will cover three of our mainstay tonics:
Apple Cider Vinegar Spritz

Hot Toddy

Moscow Mule (México Mule)
We hope you enjoy making these at home. ¡Salud!
Xula's ACV Spritz
When trying to cut down on alcohol, having a healthy drink in a wine glass can make all the difference. Refreshing and easy to make - Xula's Apple Cider Vinegar Spritz includes ACV, which has small amounts of probiotics, healthy bacteria that are good for gut health. Both Blood Orange and Orange are great sources of Vitamin C, Vitamin A, and antioxidants. In addition to its use as a natural sweetener, honey can bring anti-inflammatory, antioxidant, and antibacterial benefits.
Ingredients:
1 tbsp Apple Cider Vinegar

4 oz of Blood Orange juice

1 oz of Orange juice

1/4 tsp honey (adjust by taste)

1 slice of Blood Orange

10-12 oz Sparkling Water

3-4 ice cubes

1 dropper of Ah! Calm + Clarity
Instructions:
Combine the Blood Orange juice, Orange Juice, Apple Cider Vinegar and Honey.

Add 1 dropper of Calm + Clarity.

Stir.

Fill the glass with ice, top with sparkling water.

Garnish with a slice of Blood Orange.

Sip and enjoy.
Xula's Mood-Boosting Hot Toddy
Cold winter days can have even the best of us feeling grumpy or on edge. Cue the Hot Toddy–a drink with a fascinating history and disputed origins. Some trace its origins to India, where there was a drink popular in the 17th century made from fermented palm sap called "taddy." The theory is that the British brought it over during colonization and adapted it with their new favorite drink: black tea. Other sources point to the creator being the Irish doctor Robert Bentley Todd, who prescribed his patients a concoction made out of hot brandy, water, cinnamon, and sugar. Despite the drink's true origin, surely parties on both sides of the globe were delighted by their sweet beverages. We've added our own twist with our Happy Hormones tincture, with mood-boosting and hormone-toning herbal extracts and a hefty dose of cannabinoids.
Ingredients:
1 ½ cups brewed black tea

1 tbsp honey

1 tsp lemon juice

½ tsp ground cinnamon

1 cinnamon stick

1 lemon wedge

½ dropper of Happy Hormones
What you do:
Brew your 1 ½ cups of tea. Loose leaf tea is preferable as it can release a fuller flavor–if you're going this route, use 2 tsp of loose tea. Otherwise, use 2 tea bags.

After brewing, add ground cinnamon, lemon juice, and honey. Stir thoroughly until the honey dissolves.

Add ½ dropper of your Xula tincture. Ensure that the drink is still piping hot but NOT boiling–boiling temperatures can denature some of the beneficial extracts in the tincture.

Add lemon wedge and cinnamon stick for garnish–the cinnamon stick can be used as a flavor-infusing stirrer!


Xula's México Mule (Moscow Mule Mocktail)
Despite its name being associated with a frosty city, the Moscow Mule is often considered a summer drink because it's long and iced. However, the warming qualities of ginger and mint should be taken into consideration when trying to create a delicious winter drink. We've included our tincture Relief in this drink, to give it an extra boost of warming spearmint flavor and cannabinoids that support pain relief, digestion, and your winter vibe.


Ingredients:
2 juicy limes (3-4 tbsp lime juice)

1 cup of ginger beer

1 cup of crushed ice

Sprig of hierba buena or mint

1 dropper of Solo Hemp Relief
Optional

:

Liquid honey

to taste
Instructions:
Add crushed ice to the cup.

Add in lime juice, 1 dropper of relief, and liquid honey (this last one is only if you want it a bit sweeter, or the benefits of honey!)

Pour over ginger beer.

Add sprig of hierba buena or mint for garnish and enjoy!
Enjoy! We hope this keeps you warm and healthy.