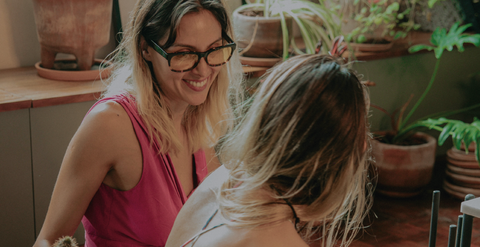 Our Bodies: An Intimate Look at Gender, Plant Medicine + Menstruation
La más xulita Sandra Blow interviewed five extraordinary Mexico City-based artists, activists, and educators for this photo essay that provides an intimate look about how these individuals relate to plants, natural remedies, gender, and menstruation.
Interviews have been edited for clarity and conciseness. Translation from Spanish by Leticia Cuevas. All photos courtesy of Sandra Blow.
Olga
Olga Rodríguez Montemayor
(she/they/güerito/joven)
40
Mexican gallerist and the director of Salón Silicón in CDMX, which focuses on queer contemporary art.
I'm Olga. I am a woman and also a non-binary existence. Both things describe me correctly, any pronoun is cool. My relationship with menstruation has always been very complicated. At some point I was diagnosed with polycystic ovaries, they've removed a teratoma, and in general I have very severe ovarian problems and cramps.
As for medicine, I've tried everything. Honestly, oregano teas work quite well—but I don't like these teas much. I had a roommate who was a witch, she made me a very strong tea. As for cannabis, I use it a little bit for everything, so it's like: anxiety - cannabis, I can't sleep - cannabis, and also menstruation. I tried some patches once and they worked great. It's like the only thing [that worked], which wasn't even specific for periods, but it was good to use and it worked quite well for me.
Diana + Mariana
Diana Dorantes (she/her) + 

Mariana Villavicencio (she/her)
33, 34
Mexican wellness advocates and architects
CDMX + Morelos
We are Mariana and Diana and we're two women that menstruate. During our period, we generally consume a lot of cocoa; I think that hot cocoa is magic and it is always present. Or turmeric, we love to experiment with turmeric and make beverages with it. Oregano tea has worked well. Lavender—we use essential oils as well. There are some essential oil mix specially for the woman's hormones Cannabis is a must in the mix and recently CBD [as well].
The truth is that we have a very close relationship with medicinal plants. We love plants. Not only because of the benefits they give us, but because of their company, it is incredible to live with them and also have the medicinal benefits. We don't usually take medications, unless it's something very necessary, but we always try to make our first option plant-based.
María aka DJ Cachorra
María Cornejo

(she/they)
30
Mexican DJ who plays under the name DJ Cachorra
CDMX
I'm Maria and I'm a menstruating woman. My menstrual cycle is painful, it is very painful and it has always been that way since the first time I got off. They are long menstrual cycles, they last approximately five days and I have pain all the time.
Plants are medicine, they have always been medicine, that's how I perceive them. I like to have plants in my house, I like to heal my pain with plants. From a very young age it has always been something that has been taught in my house, to treat stomach issues, migraines and other things with essences, oils and plant extractions.
Jovan aka Bruja Prieta
Jovan Figueroa Espino (she/they) 
30
Mexican DJ and transdisciplinary under the name Bruja Prieta. 
CDMX and Estado de Mexico-based
My name is Jovan aka Bruja Prieta. I am a non-binary woman who does not menstruate. My relationship with plants or the consumption of weed has a lot to do with my life. I incorporate it into my life because I was diagnosed with depression at a very young age and I currently use it for that reason. It helps me deal with my depression. At the same time, it makes me a little more social, obviously less anxious and I think to this day that consuming weed helps me balance my social anxiety.
All my life I have been a person that's very close with the medicinal and ancestral use of plants. I think it's very important to rescue [these medicinal traditions].
Beatriz Pawa
Beatriz Pawa (she/her)
Model and embroidery artist 
CDMX 
I'm Beatriz Pawa and I'm a menstruating woman. Since I was a child, plants have been very present in my life. My grandmother is one of those very traditional grandmothers, so she was like, 'oh! she has a cough, right? - this.' It was the lady of horsetail tea, lemon tea, cinnamon tea' In some way they have always been present. Same when I cook, right? They're inside the dishes I make. I remember when my son was born - the doctor told me that something that could help calm him down was a sachet I made with lavender and chamomile. So I would warm his bed with a hot water bottle and put that little bag just under the pillow or under the covers and the bed would smell. It helped him calm down. I was never very much in favor of other remedies that were not natural, especially for my son. And I also got to use that lavender thing right at bedtime.
My menstrual cycle is crazy. I have polycystic ovary syndrome, so it's irregular, painful. I mean, once I didn't menstruate for 6 months. I have to be very aware of how it goes, be in close contact with my doctor to verify that it is okay because it is also really very painful. And I also suffer from the fact that I have hot flashes, suddenly I say hey—is it very hot, or is it me. Suddenly my skin is very dry. My period is crazy. Somehow I had always thought you had to live with cramps. That was an acceptable pain, until they paralyzed my day and I said ugh!—I have to find something to calm that down.