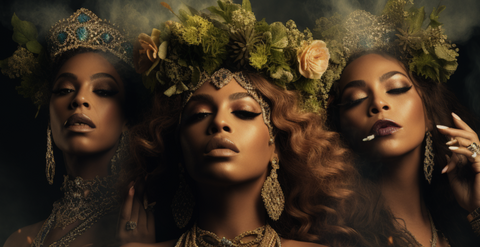 These Celebrities Are Riding High on the Cannabis Wave
As the word cannabis becomes a buzzword around the world, we're seeing more celebrities publicly share their relationship with the plant.
Public figures are starting cannabis brands, investing in cannabis businesses, consuming on social media, and incorporating the plant in their work. From music artists like Rick Ross and Kanye West smoking blunts during recent interviews to actors like Seth Rogan and Morgan Freeman freely sharing about their consumption: weed is finally getting the recognition she deserves.
Big names come with big influence, so changing the mass perception of cannabis gets interesting when coupled with fame. While the celebrities commonly known for their weedy experiences are still predominantly male, there are a few prominent women taking up space in cannabis.
Beyoncé, Rihanna, and Issa Rae are a few major names making waves in the cannabis space. It's inspiring, to say the least, knowing these figures are Black women, confidently proclaiming their support of cannabis.  
Related to: Herb Index Black Cohosh Root
Who is taking up space
Black women celebrities navigating cannabis publicly is a big deal. There aren't many widely known images, conversations, or communities that specifically highlight Black and Brown women and weed. Seeing cannabis brands launched, dollars invested in green, and public consumption are still very radical concepts. To look up and possibly see ourselves or our experiences and interests reflected back is imperative in eliminating the stigma around cannabis.
How cannabis is being destigmatized
Plenty of women consume cannabis and plenty of women consume plenty of cannabis. Visibility helps eliminate the stigma around women and weed. We need to see other women of color visibly consume cannabis to help validate our experiences and foster community.
In between giving us looks, making humanitarian moves, and running Fenty, Rihanna is getting fried (well, at least pre-pregnancy). Our fav pop star and it-girl has been unapologetically displaying her love for the plant since 2011. Weed tees, shotguns with guys in music videos, exhaling smoke as an album cover, and smoking blunts on Instagram have been empowering to watch. She's showing other women yes, I'm a bad b*tch, I'm a boss, and I enjoy weed.
Similarly, creative and actor Issa Rae has shown us an intimate relationship between Black women and cannabis through her five-season TV series Insecure. The show's main character Issa casually sparks up after a long day or has smoke sessions with her homegirls. She and her homegirls dabble in other forms of consumption like edibles as well. For many of us, the incorporation of weed into the lives of her characters was as normal as drinking tea or coffee. She made it cool, ordinary af, and ultimately made us feel seen.   
Related to: Xula Interviews: Lotus LaLoba
What is being done in cannabis
In addition to consuming publicly, publicly endorsing cannabis helps eliminate the stigmas attached to being associated with the plant. Being a woman entrepreneur is a lifestyle that already comes with its own setbacks and hurdles via patriarchy. Coupling entrepreneurship and cannabis remains an industry dominated by men. With stars like Beyoncé and Lil' Kim proudly venturing into cannabis, we are seeing the range of possibilities for women. 
Last August in a Harpers Bazaar interview, Beyonce spoke candidly about her relationship with CBD. She revealed how CBD became a healing tool for her on tour: " I discovered CBD on my last tour, and I've experienced its benefits for soreness and inflammation. It helped with my restless nights and the agitation that comes from not being able to fall asleep." This close relationship with plant medicine ultimately fostered her idea to build her own hemp farm. With her husband also building his own cannabis brand, it seems possible that we'll hear more from Queen Bey on cannabis.
Last October rap artist Lil' Kim announced that she would be releasing her own cannabis brand at the top of 2022 in partnership with Superbad Inc. She described her line, Aphrodisiak, as being collectible, fly, and lifestyle. If you're a Lil' Kim fan then you already know she's bringing her style and personal relationship with the plant to her approach.
These women are learning the plant and the business. Women in cannabiz are reminders that women can, and women will, take up space.
Changing the Perception of the Cannasseur
Most stereotypes about people who consume cannabis often emphasize ideas of laziness, stupidity, addiction, having lesser values, and other grandiose claims. People still see stoners as hippies, slow-talking, and or criminal. These archetypes have extremely limited perspectives on people who actually consume. Add in the stereotypes of being Black or Brown and being a woman on top of all that? Everybody isn't ready to see women of color and weed front and center.
Seeing extremely successful and wealthy women cosign cannabis further breaks the stigma down. Successful, wealthy, elite, and ambitious are not adjectives typically associated with your average stoner. Beyoncé, Rihanna, Issa, Lil' Kim, and countless other celebrity women associated with the plant can change the perception folks have of the world of weed—and who's in it. These women are shedding light on alternative experiences we don't always hear about.
As the world of weed grows, so will its support. Celebrities taking part in the evolution of cannabis socially are impacting millions of people. Black women trailblazing in the space as creators, influencers, and investors showcases a bright future for all women in cannabis. I'm personally excited to see more women of color enter the space. We have a historical relationship in the life of cannabis and we must remember that.
Related to: Headaches and Periods: Is there a connection?
Sources
20, E. M. A., & Macias, E. (2021, April 20). In appreciation of Rihanna smoking weed, and looking hot while doing it. Interview Magazine. Retrieved January 22, 2022, from https://www.interviewmagazine.com/culture/rihanna-smoking-weed-pictures
Bartlett, L. (2021, October 26). Lil' Kim announces cannabis brand 'aphrodisiac' with Superbad Inc.. Forbes. Retrieved January 22, 2022, from https://www.forbes.com/sites/lindseybartlett/2021/10/25/lil-kim-announces-cannabis-brand-aphrodisiac-with-superbad-inc/?sh=a3f8774385b8
Introduction by Kaitlyn Greenidge; Photographs by Campbell Addy; Styling by Samira Nasr and Marni Senofonte. (2021, August 10). Beyoncé's evolution. Harper's BAZAAR. Retrieved January 22, 2022, from https://www.harpersbazaar.com/culture/features/a37039502/beyonce-evolution-interview-2021/
Janeé, T. (2022, January 5). Thank you, 'insecure,' for making me feel seen as a black woman weed-smoker. Cosmopolitan. Retrieved January 22, 2022, from https://www.cosmopolitan.com/entertainment/tv/a38572329/insecure-smoking-weed-black-women/
Newman-Bremang, K. (n.d.). Black women love weed too, so why don't we get to be stoners onscreen? Why Don't Black Women Get To Be Stoners Onscreen? Retrieved January 22, 2022, from https://www.refinery29.com/en-us/2021/04/10395441/black-women-weed-pop-culture-representation-stoners
Rihanna's love-affair with weed: A brief history. Herb. (n.d.). Retrieved January 22, 2022, from https://herb.co/news/culture/rihanna-weed-history/
Stern, M. (2017, April 14). Morgan Freeman shoots straight: On legalizing marijuana and his escape from New York. The Daily Beast. Retrieved January 22, 2022, from https://www.thedailybeast.com/morgan-freeman-shoots-straight-on-legalizing-marijuana-and-his-escape-from-new-york
Thevarajah, P. (2021, April 20). Women of color are at the forefront of the fight for cannabis equality. The Zoe Report. Retrieved January 22, 2022, from https://www.thezoereport.com/culture/how-women-of-color-in-the-cannabis-industry-are-fighting-for-equality