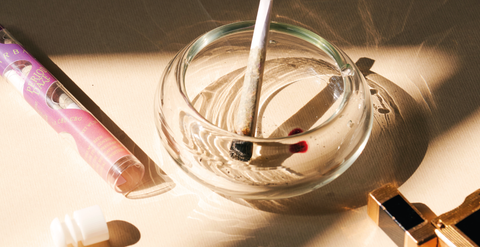 Herbs to smoke during your period
Barbari & Xula teamed up to formulate Period Daze, botanically blended pre-rolls made to help you find more ease during the most painful days of your period.
Every herb selected for this blend works to soften cramps and the less-than-ideal discomforts of the menstrual cycle. Each expertly crafted pre-roll includes organically grown CBG from High Desert Nectar to elevate the mood and CBD from Ranchera Familia to soften the aches. When combined with organically-sourced food-grade herbs, Period Daze is there to eaze the bleed.
h2>
What's In Period Daze
Our herbal mix will have you feeling yourself again on the days you need it most: Red raspberry leaf, mugwort, hemp, chamomile, cramp bark, and rose. Each pack includes 2 perfectly packed pre-rolls and every herbal spliff contains 25mg CBG and 25mg CBD, the perfect proportion to have you find your balance.  
Our Process
Period Daze follows in the footsteps of the rest of our cycle health line—consider these roll-ups your ally to better periods + cycles. As always, our formula was carefully developed with the guidance of expert herbalists in our mission to create comprehensive menstrual cycle support. Period Daze is your tasty, smokeable accessory to promote drama-free periods and overall hormonal balance. As of October 13th, Period Daze is ready for pre-order and will be ready to ship on November 1st.
Using Period Daze
WHEN + HOW TO SMOKE:  We recommend smoking on day 1 of your cycle; or as soon as you feel cramps and symptoms of your period coming on. Sometimes this can be the day before you actually start bleeding/menstruating. Inhale 3-10 puffs or until your symptoms subside. Repeat as necessary.
LIGHTING PRO TIP: Try using a hemp wick for a butane-free experience. Light it like any other herbal pre-roll, holding in your hands and turning it while taking short puffs until evenly ignited. 
STORAGE & RELIGHTING: When putting out pre-roll, make sure to remove as much ash as possible for a fresh relighting experience. Store your Period Daze pre-roll in its tube for when you need more period pain relief, ash-side down. 
Formula Breakdown
Cannabinoids: CBG: 25mg CBD: 25mg 
Herbs: Red raspberry leaf, mugwort, hemp, chamomile, cramp bark, rose
Red Raspberry Leaf (Rubus idaeus)
Used for centuries for all sorts of issues tied to women's health. A uterine tonic linked to the active compound frafarine.

1

 
Mugwort (Artemisia Vulgaris)
In Wester herbalism, it is considered a lunar herb and very much connected to the divine feminine.
Shown to help ease tension, promote menstruation and reduce cramping

2

Promotes vivid dreaming and insight during meditation. Has ever-so-mild psychotropic effect when awake.

3
Cramp Bark (Viburnum Opulus L.)
Antispasmodic and nervine.

4

Native Meskwaki people of America used it to treat cramps, bodily pains, and involuntary spasms such as asthma.

5
Chamomile (Matricaria chamomilla)
Antispasmodic and sedative; helping reduce both mental and physical tension.

7

Effective in helping relieve both PMS and menstrual cramp symptoms.

6
Hemp (Cannabis sativa)
CBD specifically is known to be great at inhibiting prostaglandin production (tied to more painful cramps).

8
Rose (Rosa spp.)
Uplifting, opening, anti-inflammatory.
Lean Back, Light Up, and Listen
To accompany the exciting release of this collaboration with our sisters at Barbari and our first smokeable product on the market, we also collab'd on a playlist for your full-body pleasure. Listen to
Period Daze
on Spotify to get the full experience.