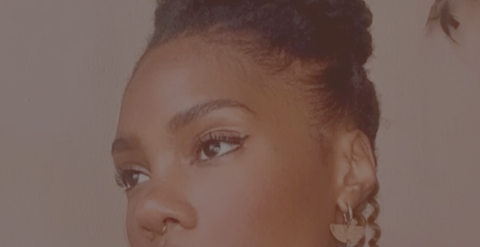 Xula Interviews: Lotus LaLoba
Lotus LaLoba (she/her) is an NLP/EFT Master Practitioner, Transformational Energy & Embodiment Coach, and Happiness & Confidence Coach. She is the host of her own podcast, Lobaland The Podcast, and has her own line of intentionally crafted and energetically charged beauty and aromatherapy products called Lobaland Beauty. She's also the Creative Director of Haus of Soul, a Black-woman-owned studio for WOC to prioritize mind-body-spirit wellness and healing. Using the tools of plant medicine, energy work, and more, Lotus shares these tools and her wisdom to support others in living their most embodied, fulfilling lives, curating thoughtful spaces and communities for Black and Brown bodies to experience limitless love and healing. 
S: Samantha L: Lotus
S: Thank you my dear friend for joining me for this interview! I'm so excited to talk more with you about your wellness journey and your work. Let's start with where you were born, raised, and currently reside.
L: I was born and raised in the Bronx and moved all around NYC as I was growing up. I currently live in Philly and am back and forth between Philly and NYC. My ultimate goal is to end up on the West Coast, in Cali specifically.
S: How did your journey into the mind-body-spirit wellness realm begin and how has it evolved? 
L: My wellness journey began as a teenager when I started practicing yoga at 15 years old. I went to a yoga class and it wowed me how much relief I was getting in my body. I continued to go to different wellness events and explored different healing modalities throughout New York City. I was so fascinated by how embodied and present these people were in these classes, but I also noticed that I was always the only Black girl in these spaces. It was extremely rare that I saw other Black people doing things like Qi Gong or meditation or transcendental dancing and all these different things that I was doing at that time in my late teens. 
As an adult, I started working as a teacher for Harlem Children's Zone and started a non-profit there called Prettyful, working with teenage girls as we supported them throughout the different transitions they were going through. I also worked on another non-profit that supported youth of color with reconnecting with their homelands by being able to visit their countries and deepen their connection with their culture. 
Flash forward to now, I have my own business, Lobaland. As an EFT (Emotional Freedom Technique) practitioner and coach, I create spaces for Black and Brown bodies to be able to explore different healing modalities for mental, emotional, and spiritual wellness. I have my podcast, Lobaland the Podcast in which I share divine insights and healing techniques to manage your energy and emotions. I also have some amazing guests on the show talking about everything from Cannabis, to cultivating healthy relationships, to visibility as BIPOC in wellness spaces. For folks who want to deepen their spiritual practice and have access to the different offerings I provide from EFT classes to monthly meditations and more, I have a membership program that provides these services and offerings. Members also get exclusive access to Lobaland Beauty drops. I feel like I've lived so many lives in such a short amount of time! 
S: It's amazing to see how you continue to do the work you started out doing as a community builder and teacher and how that evolved into creating a wellness community for Black and Brown people to experience different modalities LED by Black and Brown people. Because like you said, that wasn't the case when you were growing up. Visibility and representation matter. 
Let's talk about Cannabis for a second because that's also part of your work. You integrate mindful consumption of Cannabis in some of your classes. What was your experience with this plant growing up and when did you start consuming it? 
L: My mom and uncle consumed Cannabis so it wasn't like this heavily stigmatized thing in my upbringing, but I really didn't consume any substances until later on in my adulthood. I started consuming CBD from our girl Hanah Salas from Open Apothecary and Magic Mama Co. I was diagnosed with rheumatoid arthritis at 19 years old after my first mild stroke (I've had 3 of them) and I was frustrated with how doctors kept pushing steroids and all these other hardcore things for the debilitating pain I was experiencing. I heard about Hanah's work through someone on Instagram so I reached out to her and told her what was going on with me with my diagnoses and she sent me some products and shared her wisdom and was able to help me understand how this plant really is medicine and how it works with my body to provide the physical relief I needed as well as mental health support. It's because of Hanah and her magic that I exist healthy and thriving today. 
S: Awww the love! Shoutout to Hanah whom I had the pleasure of interviewing for Xula as well! 
Besides hemp, you share a lot of knowledge about your other favorite plant—green tea, specifically Matcha! What are some of the benefits one can receive from Matcha and in what ways has it supported your own health? 
L: It really is the Green Team for me: Cannabis and Matcha! These plants help facilitate a flow state for me. I remember seeing Hannah Bronfman, another fellow Black woman in wellness, holding some green tea looking drink and I was like, "what is that?!" I was institutionalized when I was 24 for a mental breakdown and I remember thinking about how there were 2 things I absolutely needed to do when I was released and that was (1) get a matcha latte and (2) read "No Mud, No Lotus" by Thich Nhat Hanh (hahaha)! I got my first Matcha Latte at ChaCha Matcha down on Broome Street in NYC and I was pleased with how responsible they were in the sourcing and creation of the lattes and that continued to peak my interest in learning more about matcha and the history and ritual of making and consuming matcha for my physical and mental wellbeing. It helps me feel focused and relaxed and energized in a balanced way. I don't drink coffee. It's matcha for me.
Matcha is high in antioxidants and contains an amino acid called L-Theanine which is said to help facilitate focus, relaxation, enhanced mood, and more. Matcha also provides a slower, more sustained output of caffeine so it's not as intense as coffee which can feel like a jolt and then a crash. Learn more from this quick 101 style breakdown of the benefits of matcha from Matchaful here.
S: Do you have any brand recommendations or tips for ethically sourcing Matcha? What should we be looking for when purchasing Matcha? 
L: I have a whole podcast episode on this actually (listen here)! Definitely check that out because I dive deep into all things Matcha there but here's a couple of quick things I'd suggest: Ask your barista questions! If they can't answer where it's sourced, maybe think again! Unfortunately, Trader Joe's matcha is not matcha y'all, sorry! Here are Matcha brands that I use and trust that are ethically sourced and served and are true Matcha:
Looking for more? How to make Matcha (from Matchaful)
S: You have AMAZING Matcha latte recipes— can you share one with us?
L: Of course! Here's one of my favorites: 
Iced Rose Matcha Latte

2oz of rose water*

½ tsp of Matcha (ceremonial is best) 

4oz of milk (whatever you prefer, though I suggest almond or oat) 

2oz of filtered water

your favorite sweetener

cinnamon 

Ice

mason jar or other drinking container eco friendly straw 
*If you're making rose water from scratch, you'll need about 1 cup of organic edible rose petals. 
(learn how to boil fresh roses here) 
[xulita tip: Learn more about the herbal power of roses here]
S: Going back to your experience as not only a business owner, but a Black woman business owner—what challenges have you faced throughout your line of work and what advice would you give to folks facing similar challenges, especially BIPOC folks? 
L: The biggest challenge is the labor that's expected of Black bodies and our creative intellect being appropriated and taken without any proper credit or payment or acknowledgment, which I've definitely experienced unfortunately way too many times. I've definitely had work I've done being copied and shared specifically on non-Black platforms, when I just think, why not just hire and pay the creator, especially as Black bodies, for our work when we historically have not been adequately compensated for our labor and creativity. A big issue is [BIPOC] work not being valued, not being paid equally as our non-White counterparts, but still expected to put in all this work. That's tough.
S: It definitely is. But one thing you're great at and one thing you've taught me is the importance of advocating for ourselves especially as BIPOC, whether that means asking for a raise or saying "No" to exploitative offers. 
What have been some of the greatest lessons or gifts you've learned or received throughout your role as a teacher and space holder?
L: I'm always blown away that I get to hold space for Black bodies. It doesn't get any better than that for me. I've also learned to put myself first unapologetically and really learned to know myself. There's such freedom in knowing who you are and being confident enough to express your fullest self. It's not about being selfish in taking yourself away from people, but it's about knowing it's okay to be self-focused—especially as Black women. We don't have to put everything and everyone else first and forget about ourselves. No more self-sacrifice. 
S: Do you have a quote or a saying or a practice that grounds you and keeps you going?
L: My matcha and Cannabis ritual every morning keeps me grounded for sure. I also use this affirmation I created: Create to connect. Praise on purpose. Recover to resonate. I dive into that affirmation in my free e-book which I'm happy to share with Xula readers!
S: Fantastic. Lo, it's always a pleasure to talk with you. I look forward to seeing all the amazing things you bring forth and continuing to be in space with you.
L: Thank you! I love you so much!
Find out more about Lotus LaLoba and support her work: