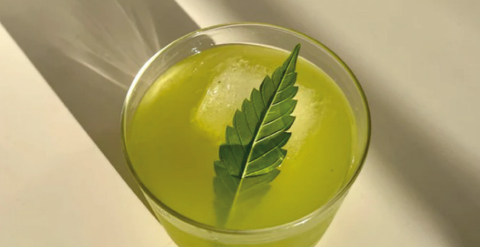 Xula Pepino y Menta Agua Fresca
Cool down your nervous system, mind and body with this refreshing classic and cooling Mexico City beverage. Cucumber, like the passionflower and damiana found in our ah! calm + clarity drops, is also a nervine that calms and supports our nervous system. Nervines are types of herbs known to to nourish the central nervous system—designed to restore balance and restfulness in the body. A thing we could all use right now. 
WHAT YOU'LL NEED

* small handful of fresh mint leaves, ends and stalks trimmed
* 1/3 cup agave
* 1 pinch sea salt 
* 1 cup hot water
* 2 large cucumber, ends trimmed, 1/2 peeled cut into cubes
* 250ml of fresh lime juice, apx 5 limes
*  Ice cubes, for serving


WHAT TO DO

1. In a medium bowl, combine the agave, salt, mint leaves, and gently crush them with anything you use best for crushing—a pestle, a wooden spoon, or fork until the mint is bruised.
2. Pour hot water into mixture and stir until the agave melts down and dissolves. Let steep for up to 10 minutes while you cut and squeeze limes to render lime juice.
3. In a blender, add cucumbers and steeped cooled down mint water. Blend until thin and watery. In a pitcher with lime juice and ice, strain the cucumber mixure into pitcher, being sure to press with wooden spoon or spatula to get every last bit of agua. Adjust with additional lime juice, purified water, or agave, to desired taste. 
5. Pour in a tall glass over ice and garnish with cannabis leaf, mint or any other herb of choice y desfruta! 
Pro Tip: Add Xula drops of choice and an ounce of mezcal per 8 ounce if you're feeling extra.