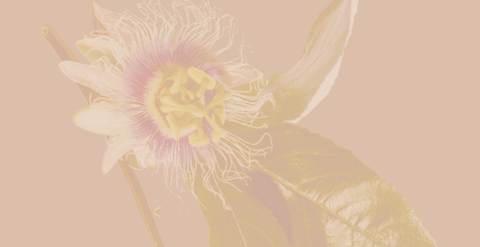 It's High Time to Harness the Power of Passionflower
Lush green vines covered with purple and white flowers climb the garden wall, like blooming tentacles grasping for higher heights. Some believe it's a sign from the heavens, for others, it's an earthly way to ease anxiety. It's more than 600 species strong and hails from the family of plants known as Passifloraceae. You may know it by one of its many names: maypop, maracuja, granadilla, Passiflora incarnata, or passionflower.  
Indigenous Origins
Native to North America, Central America, and South America, Indigenous communities have harnessed the power of passionflower for thousands of years. It's prevalent throughout the southern United States, where generations of Native Americans have utilized the whole plant for medicinal and culinary purposes.1 The Aztecs and the Incas enlisted passionflower as a sedative to battle insomnia.2 Hearing the word passionflower could conjure up ideas of carnal lust, but don't get all hot and bothered just yet. While passionflower may sound like an aphrodisiac, much of the folklore surrounding its name is more pious in nature. 
Related to: 7 Adaptogenic Herbs for Stress and Anxiety
The Passion of the Plant
As Conquistadors from Spain invaded Central and South America—first with missionaries and later with mercenaries—the plant went through a religious-inspired rebrand. Jesuit missionaries named it passionflower because they believed the flower's anatomy resembled images of the Christian crucifixion story, sometimes known as the Passion.3 The petals and sepals were said to represent the 10 disciples who were present at the crucifixion (excluding Peter and Judas, of course). 
The 3 stigmas were the nails in the cross. The 5 stamens were the wounds of Christ. Finally, the corona filaments were thought to represent the infamous crown of thorns. Just like that, the mythology was refashioned to fit the Christian narrative. It's both fascinating and ironic that Catholic symbology was projected onto a plant that had been a part of Indigenous cultures for centuries, but such is colonization. If the graphic visuals of Christ's suffering have you distressed, you'll be relieved to know that passionflower can actually be quite effective in reducing anxiety. 
Cool, Calm, and Cramp-free
Passionflower is known as a nervine, an herb that calms, strengthens, and supports the nervous system.4 It is believed to increase the chemical gamma-aminobutyric acid or GABA, which helps relax the overactive brain cell activity that causes anxiety. 
Passionflower may come in handy when you need to slow down the spiral of stinkin' thinkin'. Many people could use that kind of support while trying to navigate the concurrent crises going on in the world as well. Passionflower is a major player in Xula's ah! calm + clarity formula, helping folks find their chill. Speaking of chill, with its antispasmodic effect, passionflower helps to ease cramps and spasms in the musculature, proving helpful during painful menses.5 So if you feel your hormones jumping like a disco (shoutout to Missy Elliott), passionflower could provide some sweet relief. 
Related to: 6 Powerful Herbal Allies to Help Alleviate Stress
Deep Sleep
Passionflower has been used to fight insomnia by cultures around the world. It's a relatively mild sedative with few side effects, as well as some anti-inflammatory properties. Participants in a research study reported success managing their sleep irregularities, as well as improved sleep quality after seven days of drinking herbal tea with passionflower.6 You'll often find it in botanical sleep formulas like Xula's zzz! Lights Out tincture, where it's combined with CBD and CBN.  
Herbal Elevation
Passionflower has also been employed to enhance the effects of hallucinogens* since it's a native source of beta-Carbolines.7 It can be blended with the root bark of Illinois bundleflower to brew a drink called prairiehuasca or anahuasca, an analog of ayahuasca.8 9 The combination of ingredients from these nontraditional plants mimics the chemical compounds in ayahuasca. When consumed at the proper dosage prairiehuasca can induce similar states of shamanic ecstasy. 
If you're looking to invite more peace and serenity into your life as you brave the uncertainty of the 2020s and life in general, passionflower could be the answer to your prayers. 
*Disclaimer: Our tinctures have nowhere near the quantities of passionflower normally used for hallucinogenic or shamanic mixtures. At Xula, we're pro-making informed decisions about what you put in your body, with a big emphasis on informed. Some parts of the passionflower plant turn to cyanide when eaten (again, not what's in Xula), so don't go munching flowers without doing your research :)
Related to: How to Have Hormone Therapy with a Holistic Perspective
Sources: